---
| | |
| --- | --- |
| Israel Resource Review | 4th October, 1999 |
---
Contents:
Go to the Israel Resource Review homepage


Click on the above banner for more information
---
Provocative Settler Birth Unravels Nerves in Judea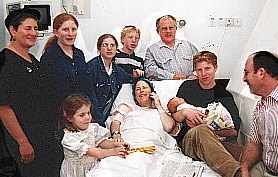 Sara Bedein gave birth on 17th September, 1999 to yet another gingy, Rehuma Leah, a bouncing buttercheeks sister to Noam, Rivka, Elchanon, Leora, and Meira, and intends to ring her as yet another settler to live at 9 Lotam Street in the Old City of Efrat just after Yom Kippur.
This provacative act of settler expansion caused the immediate emergency session of the UN insecurity council and the US National Security Council, chaired by Sandy Burger-king, whose namesake just withdrew its buns from the vest bank in anger.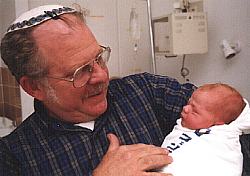 Dennis Rust, firing off a hasty telegram to Yossi Saris and Shulamit Baloney of the Sheretz party, demanded that conduminimums be immediately erected for the unsettled settlers of Efrat, and that David Bedein be sent for immediate counsel at Clinika Off.
Reached for comment at Daf Yummy, David Bedein claimed that he only found out about the pregnancy via the internet nine months ago, and had the baby changed from boy to girl so that he would not have to call up the "e-moyel" for a cut of the profits on the net. Rabbi Risk would have made the unkindest cut of all.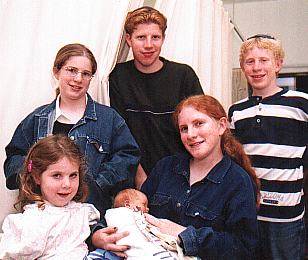 Asked about possibilities of artificial insemination through the internet, people were heard to be singing "semen, semen tov, and mazel, mazel tov" in schules throughout Efrat upon hearing the news.
In a statement from the Vite House, it was announced that US Secretary of state Madalyn unBright would immediately dispatch special US presidential birthcontrol envoy Monica Leudinsky to help settlers practice on bypass routes so as to unsettle their sexual driving habits so that they may conduct safe conjugal encounters that will not produce any more such unexpected gingy additions to their illegal expansions in Judea.
End of Release
we hope
Freedom with Justice:
Prof. Irwin Cotler's Presentation on the Subject of Freeing Terrorists in the Context of International Law
by E. J. Bliner
Security Analyst
On September 14, 1999, the renowned international human rights lawyer and professor of law at McGill University, Irwin Cotler, delivered a comprehensive presentation at the Beit Agron International Press Center concerning the current release of Palestinian Arabs who had been convicted of murder and attempted murder in the context of terror activities.
The Palestinian Authority and the PLO define these people as "political prisoners."
Cotler carefully explained that Israel's freeing of these "political prisoners" (which he argued from international law were not political prisoners at all, but rather terrorists) actually violated the following fundamental principals of international law.
First, Cotler explained, states are obligated to prosecute and punish violators of international crimes such as terrorism as a matter of fidelity to the rule of law.
Second, people who commit international crimes such as terrorist acts are considered "hostis humani generis", or the enemies of all humankind. As such, all states have the legal responsibility to prosecute and punish the terrorists.
Third, violators of international crimes bear criminal responsibility for their actions, and states are therefore obliged to prosecute and punish any perpetrators.
Finally, each victim of terrorism deserves the right to due process and the "right to justice."
Since any kind of amnesty or pardon granted for violators of international crimes would removes the victims' right to justice, freeing Palestinian terrorists would be a flagrant disregard and breach of international humanitarian law.
Aside from explicating how the release of Palestinian terrorist defies international law, Cotler also upbraided Israel's Justice Minister Yossi Beilin's rationale for releasing the Palestinian prisoners.
According to Cotler, no perpetrator of international crimes, regardless of religion, should be granted amnesty according to international law. In that context, Cotler also rebuked Beilin's notion that Jewish murders should not be released from prison (because they acted alone in committing a murder) while Palestinian convicts should be freed (since they pursued Palestinian national interests, which have now reconciled by the State of Israel.)
Although most of Cotler's breifing was dedicated to the issue of prisoner release, he also spent time praising a landmark decision by the Israeli Supreme Court which forbid the use of torture during interrogation, even of terrorists.
By applying basic principals of international law, the Court ruled that Shabak (Israel's Security Service) would no longer be allowed to use torture in order to extract information about potential terrorists or terrorist attacks. Cotler urged Israel to apply international humanitarian laws to the issue of Palestinian prisoner release just as it did in the Shabak case.
Prof. Irwin Cotler, who has represented tens of poltical prisoners and human rights figures throughout the world over the past thirty years, including Nelson Mandela, Andre Sacharov and Natan Scharansky, he noted that not one of them had ever been convicted of terror activity. The difference between the Palestinian Arab convicts who expect to be released and the prisoners whom Cotler has represented through the years could not be more clearly pronounced.
Go to the Israel Resource Review homepage
The Israel Resource Review is brought to you by the Israel Resource, a media firm based at the Bet Agron Press Center in Jerusalem, and the Gaza Media Center under the juristdiction of the Palestine Authority.
You can contact us on media@actcom.co.il.
---