---
| | |
| --- | --- |
| Israel Resource Review | 15th September, 1997 |
---
Contents:
---
Philadelphia Inquirer:
Poster Child of Peace is Terror Victim
Once the face of hope, she now symbolizes Israel's frustrated future.
by Barbara Demick
Inquirer Staff Writer
Sunday, 14th September, 1997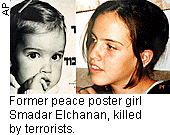 Jerusalem -- Smadar Elchanan was only a baby when she became a poster child for the peace movement.
Her photograph appeared in a 1984 flier that called for peace with the Arabs so that the children of Israel might enjoy a better future. The brief message on the flier mused about what life in Israel would be like when Smadar reached the age of 15.
Who would have guessed that she wouldn't make it?
Smadar Elchanan was killed by an Islamic suicide bomber 10 days ago as she went shopping for a birthday present on Jerusalem's Ben Yehuda Street. She was just two weeks shy of her 14th birthday. And in death, as in life, she has become something of a symbol for Israel.
The girl's truncated biography is weighted with irony. Her grandfather was the late Brig. Gen. Matti Peled, a hero of the Six-Day War of 1967, who was one of the first Israeli officials to talk with the Palestine Liberation Organization.
In deference to Peled, Palestinian leader Yasir Arafat sent a personal envoy to Smadar's funeral last Sunday at a kibbutz in central Israel. That was shocking in itself, but then Smadar's mother, Nurit Peled-Elchanan, issued the coup de grace when she made a startling accusation in a radio interview: "I hold the government of Israel responsible for the death of my daughter."
On Friday, as she sat at a round kitchen table covered with offerings of cakes, cookies, and newspaper clippings about Smadar's death, Nurit, 48, repeated her indictment of her country's leadership:
"I really believe it is the fault of the Israeli government more than the terrorists. Israel is breeding terrorism by heaping these humiliations against the Palestinians. By behaving like conquerors, we've brought it on ourselves."
Nurit said she had voiced her opinions to Prime Minister Benjamin Netanyahu, who, as it happens, is a friend from childhood. He called to offer condolences. However, Smadar's father, Rami Elchanan, was so angry that he refused to take Netanyahu's telephone call.
The Peled-Elchanan family's views are radical by Israeli standards, but they do reflect a growing despair over the state of the nation and the Netanyahu government. In a poll published Friday in the newspaper Ma'ariv, 72 percent of Israelis said that Netanyahu had no solution to the terror predicament. Asked how to describe the "national mood" today, 34 percent selected the answer "terrible" and 26 percent "not good." (In contrast, only 5 percent chose "good.")
Their frustrations were echoed Thursday by Secretary of State Madeleine K. Albright. While she told the Palestinians they had to be "relentless" in combating terrorism, she asked Israel to stop responding with measures she said undermine the "partnership" required for peace. She left Israel on Friday, saying it was up to both sides to resume the peace process.
The apartment where Smadar grew up is in the leafy Jerusalem neighborhood of Rahavija. Inside is a comfortably disheveled home filled with houseplants and paintings. Instead of the standard death notice, the 1984 poster with Smadar's baby picture is taped to the front door.
In Smadar's tiny room, tacked to the walls between portraits sketched by an older brother, an artist, is a photograph of the funeral of Prime Minister Yitzhak Rabin, architect of the 1993 peace accords with the Palestinians, and also a family friend.
Nurit Peled-Elchanan says her daughter was just becoming interested in politics, but still preferred the more conventional teenage passions of music and style. ("She tried to join the leftist youth movement, but it bored her to tears," her mother said.) Smadar idolized John Lennon, Tom Waits and especially Sinead O'Connor, whom she emulated by shaving her own head and piercing her navel and nose.
"She liked to say, 'Mom, I'm a bit freaky,' but really she was quite a little girl and very feminine," Nurit recalled. "She loved perfume. She loved to cook."
Like others in the family, Smadar was heavily influenced by her famous grandfather, Gen. Peled. She was avidly studying Arabic in junior high school and prided herself on her views. She told her family recently about an incident on a public bus in Jerusalem when she yelled at an Israeli who was being rude to an Arab passenger.
A few days ago, when her mother, Nurit, was taking an early-morning walk, a Palestinian street-cleaner approached her to offer condolences following the bombings, which killed four other Israelis and the three suicide bombers.
"Your daughter would always say hello to me in the morning," the street-cleaner told Nurit. He then added a personal note: "I know what it means to cry. I lost two brothers in the intifadah [Palestinian uprising] ."
Not all of the Peled and Elchanan family is leftist. Smadar's paternal grandfather, a Hungarian-born survivor of the Auschwitz concentration camp, traditionally supported the conservative Likud Party and voted for Netanyahu in the 1996 election. He often argued about politics with Gen. Peled, who died of cancer in March 1995.
The general maintained that the creation of a Palestinian state was an absolute necessity for Israelis to live in peace. "He believed that only with two states, divided, would we be able to overcome our differences and that only after some years separation would there be real peace," said Nelly Levy, one of Smadar's aunts.
The general had strong views on the West Bank and Gaza as well. He resigned from the army to protest its refusal to withdraw from those territories, captured in the Six-Day War.
In the last year of his life, Peled squabbled with his old friend Yitzhak Rabin about delays in the peace process. Nevertheless, he remained optimistic. The family recalls that a few months before his death, Peled told Smadar's oldest brother, Elit, who is now 20, that he should try to defer joining the army until after completing university.
"In five years, by the time you are finished with university, they'll really need educated people in the army because it will be an army of peace, not war," Nurit Peled-Elchanan remembered her father saying.
Smadar Elchanan was buried last Sunday under a grove of carob trees at Kibbutz Nachshon, next to the grave of her grandfather. The funeral was attended by many political notables -- among them former Prime Minister Shimon Peres and Dalia Rabin, the daughter of the late prime minister. Rami Elchanan read the Kaddish, the traditional Jewish prayer for the dead, losing his composure only when he came to the passage, "Whoever makes peace on high, will make peace for us and the whole of Israel."
For many of the family's friends and relatives, the loss of the dream was almost as grievous as the loss of Smadar herself.
"This is such a paradox. We're looking at a family that raised its children on the values of peace and love and equality and tolerance," said Hannah Altman, 47, an old friend of the Peled and Elchanan families. "Smadar was raised on hope for the future. Where will that go now?"
---
Philadelphia Inquirer:
U.S. Government and European Community Finance PLO Broadcasts

Broadcasts' Warlike Tone Angers Israelis Listening to a PLO Network.
by Barbara Demick
Inquirer Staff Writer
Sunday, 7th September, 1997
I am a daughter of Palestine ....
Koran in my right hand, in my left -- a knife.
A slightly older girl with her ponytail wrapped in a checkered kaffiyeh gives an emotional recitation of a poem for Palestinian leader Yasir Arafat:
I am finished practicing on the submachine gun of return ....
We swear to take vengeful blood from our enemies for our killed and wounded. We will board a bustling boat which will take us to Jaffa.
The girl approaches Arafat, who plants congratulatory kisses on her cheeks.
These are excerpts from children's programs broadcast on Palestinian television, a facility funded in part by American aid. They are the basis of what might be called Exhibits A and B in a case the Israeli government is mounting against the Palestinian Authority. It says the fledgling Palestinian radio and television network is being used as a powerful propaganda tool to incite hatred against Israel.
The excerpts are from broadcasts aired before three suicide bombers killed four Israelis in Jerusalem on Thursday, but they are considered all the more incendiary by Israelis in the aftermath of the latest Islamic terror attack. The images of violence and death on the broadcasts are especially galling to many Israelis because of repeated pledges by Arafat to crack down on terrorism. After a June 30 suicide bombing of a Jerusalem market killed 15 Israelis, Prime Minister Benjamin Netanyahu threatened to jam the broadcasts. He didn't carry out the threat, but he is expected to voice the complaint when Secretary of State Madeleine K. Albright visits this week.
The Palestinian Broadcasting Corp. is a creature of the 1993 peace accords, which afforded Palestinians the first trappings of self-rule. The "Voice of Palestine" radio broadcasts began in 1994, television the following year.
The network was nurtured with about $500,000 in equipment and training from the U.S. Agency for International Development and with more than $6 million in aid from the European Union, according to network chairman Raddwan Abu Ayyash. A spokesman for the United States Information Service in Jerusalem said he could find records for only $70,000 in U.S. aid spent on training and TV cameras, but he added that the United States provided other funding for the network.
The network is based in Ramallah, a sun-bleached West Bank city that has become the de facto seat of government for the Palestinian Authority. Abu Ayyash, a prominent journalist who was jailed by the Israelis in the 1980s, denies the broadcasts incite, but concedes they relay an increasingly angry mood among Palestinians.
"I can't put love longs and dances on television when people are being killed," Abu Ayyash said, referring to Palestinians killed while taking part in attacks on Israeli soldiers. "Journalists have to be part of society and reflect what is happening on the ground."
To some extent the debate over Palestinian media mirrors the larger debate about Arafat himself: The conflict between his conciliatory statements, usually in English, to diplomats, and his often incendiary speeches in Arabic to his Palestinian political constituency.
Israeli officials protested last month when Arafat embraced a Hamas leader and delivered an anti-Israeli tirade to supporters in Gaza in which he declared, "all options are open" -- a clear implication that armed struggle remained a possibility.
Palestinian TV broadcasts the usual mixture of sports, movies, cartoons, talk shows and news. Most of it is not nearly as violent as, say, the police dramas on American television, but the shows do reflect a society preoccupied with war and struggle. In a show about the opening of Palestinian schools, girls in frilly white dresses were shown dancing -- incongruously -- with Kalashnikov rifles that they twirled like batons. In another broadcast, a schoolboy, asked what he got out of summer camp, answered: "I am defending the homeland and undergo training like army drills."
There is a children's quiz show about great figures in Palestinian history -- many of whom are considered heroes by Palestinians, but terrorists by Israelis.
One show featured Izz Al-Din Al-Qassam, a sheik who was killed by the British in 1935. The military wing of Hamas, the Islamic resistance movement, which has carried out many terrorist bombings in Israel, was named for Qassam.
The heroine of another episode was Delal Al-Magribi, a woman who commanded a bus hijacking near Haifa in 1978. Thirty-four Israelis and nine Palestinian commandos, Magribi among them, were killed. The quiz-show emcee referred to Magribi as "our sacred martyr." Under the peace accords, the Palestinians were allowed to set up a police force, but not an army. But it is hard to tell the difference in some of the Palestinian footage -- shot MTV-style with inspirational music accompanying shots of police marching in formation, drawing rifles and diving under burning barricades.
In one rapid and heavily edited sequence in a music video, an Israeli soldier is shown firing a gun. Then, a quick cut and a shot of a girl falling in a forest.
The television excerpts were taped and translated from Arabic by the Palestinian Media Review, a private, nonprofit organization run in part by former Israeli security specialists. English-language transcripts were shown to Abu Ayyash, who said they appeared to be accurate, but added that they represented only a few examples from hours and hours of programming.
David Bar-Illan, Netanyahu's spokesman, says he is most distressed by the broadcasts designed to influence children. "The unfortunate thing is that it leaves very little hope for a better relationship between the two peoples ... especially if children are being taught to hate Israelis," he said.
Ghassan Khatib, an independent media analyst and head of the Jerusalem Media and Communication Center, says the Palestinian programming has grown more militant since Netanyahu came to power in 1996, coinciding with the souring relationship between the Israeli and Palestinian leadership.
"I think in the beginning, when the Palestinian Authority first took over in 1994, they were speaking in a very moderate voice, avoiding anything that was very hostile or critical of Israel," Khatib said. "Later, it changed. The mood became hostile. I don't think the Palestinian Broadcasting Corp. is to blame. I think they are reflecting the views of official Palestinians."
One article in the peace accords says that Israel and the Palestinian leadership must "foster mutual understanding and tolerance and shall accordingly abstain from incitement, including hostile propaganda." But exactly what constitutes incitement -- and what is merely the free expression of opinion -- is a matter of intense debate.
Itamar Marcus, codirector of the Palestinian Media Review, says the problem with Palestinian broadcasting lies not strictly in what is said, but in the mood created.
"It is a whole atmosphere of a nation preparing for war," Marcus said.
Marcus is particularly critical of Palestinian TV's habit of broadcasting maps of Palestine that include all of Israel -- not just the West Bank and Gaza, the territories that Palestinians expect to make up a future Palestinian state.
"There is no sense here that they are willing to accept Israel as a neighbor," Marcus said.
Voice of Palestine radio referred to Thursday's suicide bombing as a "terrorist attack," but in "occupied Jerusalem."
Under an unusual structure, the Palestinian Broadcasting Corp. reports directly to Arafat, bypassing the Palestinian Ministry of Information. He is able to dictate its content while shaping a different message when addressing diplomats, Israel and the Western news media.
In September 1996, on the day before protests over a tunnel opening in Jerusalem's Old City led to clashes in which 61 Palestinians and 15 Israelis died, Arafat told Palestinian police: "The believers shall fight for the cause of Allah. They shall kill and be killed .... Our blood is a small price to pay for the cause."
Addressing a news conference as the clashes spread, he spoke of the need to "calm the situation down."
Last month, during another widely broadcast speech delivered to the Palestinian legislative council during a visit by U.S. envoy Dennis Ross in which Arafat promised to crack down on terrorism, the Palestinian leader said: "We must confront them. We must confront them ... . We must confront them in every sense of the word."
Arafat carefully refrains from any references to "the Jews" or even to "the Israelis," usually specifying that his anger is directed toward the Netanyahu government and often going out of his way to praise other Israelis. With some exceptions, the same applies to other senior Palestinian officials.
The Israeli government, however, has complained about the Mufti Ikrama Sabri, who in a recent Friday prayer broadcast by radio from Jerusalem's Al-Aqsa mosque, called for "Allah to take revenge on behalf of his prophet against the colonialist settlers who are sons of monkeys and pigs."
Abu Ayyash and other broadcast officials contend that if they had the resources to carefully scrutinize Israeli television, they would find an equal or greater number of inflammatory anti-Arab statements.
"People sometimes make extreme statements, especially on our live shows. I can't put plaster over their mouths," Abu Ayyash said. "At times, I've tried to soften the mood, but if this is the way people think, these are the kinds of things they say.
"What I won't do, though, is become a branch of Radio-Television Israel. That is what Netanyahu would like us to do and that is an occupier's mentality," Abu Ayyash said. "This is Voice of Palestine. We have to reflect our own culture and our own history."
---
Senior Palestinian Official Calls for Destruction of America and Labels it a Terrorist State

For the second time in two months, a senior Palestinian Authority (PA) official has called for the destruction of the United States.
Following are excerpts from the Friday prayer sermon delivered by PA Mufti Ikrama Sabri at the Al-Aksa mosque in Jerusalem on September 12, 1997.
Sabri's sermon was broadcast on the Voice of Palestine, the PA's official radio station, immediately following the 10 minute address by U.S. Secretary of State Madeleine Albright to Palestinians on the same station. Sabri is the official Mufti (senior Muslim cleric) of the PA, and was appointed to his position by Yasser Arafat.
"Oh Muslims, we must raise our voices against America, its ally Britain and all the infidel nations and say that Israel is stealing our land and establishing illegal settlements ... Why does America support settlements in Israel? Are the settlements not terrorism? And therefore, America is the chief of the terrorists. Oh Allah, destroy America, her agents and her allies! Cast them into their own traps, and cover the White House with black!
Oh Muslims, our brothers in faith everywhere, the purpose of the American Secretary of State's visit to Palestine is to support the Israeli position regarding deceitful security and fanatical settlements ... The strategic covenant between Zionism and the Crusaders is a satanic alliance hostile to Islam and the Muslims and we expect no good from it. The Muslim masses in Palestine and the world over condemn Albright's declarations issued today and in the past two days. The masses condemn America's pro-Israeli stance, which demonstrates that global forces, the heretics, the terrorists and those filled with hate are forging an alliance against Islam and Muslims ... Oh Allah, destroy America, her agents and allies! Allah, raise the flag of Islam over the Al-Aksa mosque, Jerusalem and Palestine ... "
Two months ago, in his prayer sermon of July 11, 1997, Sabri also called for the destruction of America. Following are excerpts from his July sermon, broadcast on the Voice of Palestine:
"Oh Allah, destroy America, for she is ruled by Zionist Jews ... Allah will paint the White House black! Clinton is fulfilling his reverend's will to identify with Israel .... The Muslims say to Britain, to France and to all the infidel nations that Jerusalem is Arab. We shall not respect anyone else's wishes regarding her. The only relevant party is the Islamic nation, which will not allow infidel nations to interfere .... The homes the Jews are building will become Arab property, with Allah's help...."

Allah shall take revenge on behalf of his prophet against the colonialist settlers who are sons of monkeys and pigs .... Forgive us, Muhammad, for the acts of these sons of monkeys and pigs, who sought to harm your sanctity."
The Voice of Palestine is under the auspices of the PA's Palestinian Broadcasting Corporation (PBC). According to the Philadelphia Inquirer (7th September, 1997), the PBC has been funded in part by the United States government.
---
Should a Publicly Funded Leah Rabin be Above Public Reproach?
David S. Bedein, MSW
Media Research Analyst
Bureau Chief: Israel Resource News Agency
Beit Agron International Press Center
Jerusalem, Israel
Under a special act of the Israeli Knesset, Leah Rabin receives public funding for travel and communications.
The time has come to introduce international public scrutiny of Leah Rabin's use of Israel taxpayer funds.
Most recently, Leah Rabin signed a "peace declaration" with Yassir Arafat in Ramallah, which Arafat curiously refused to translate and distribute in Arabic.
Leah Rabin once again referred to Arafat as a "man of peace" while mentioning Israel's current Prime Minister as a "man of war".
The governor of Ramallah who hosted Leah Rabin, Mustafa Liftawi, planted a bomb in Zion Square in Jerusalem on July 5, 1975, killing thirteen people.
Lifatwi expresses no regrets.
Meanwhile, a clause inserted into the Declaration of Principles for the Oslo accords and signed by Yitzhak Rabin and Yassir Arafat was that no one with a background in terror activity could be employed by the Palestine Authority
Asked about this Arab terrorism, Leah Rabin shrugged her shoulders and told the Times of London that "there were Jewish terrorists, too".
It is not clear as to how seriously the Israeli public takes Leah Rabin. Perhaps that is why the Israel Labor Party Movement did not make much use of her during the 1996 electoral campaign.
However, Leah Rabin has a mesmerizing effect abroad.
In Leah Rabin's public appearances abroad, she does not hesitate to mention that Israeli opposition leaders distributed Yitzhak Rabin's picture in an SS Uniform, despite the fact that Leah Rabin knows that this is a lie.
Leah Rabin knows that sworn testimony at the Shamgar commission that investigated the murder of Yitzhak Rabin proved that Israel Intelligence officer, Lt. Col. Avishai Raviv, who reported directly to Rabin, was the only man who distributed the Rabin picture in the SS uniform and the only man who waved that picture in front of an Israeli TV camera.
Leah Rabin knows that sworn testimony at the Shamgar commission that investigated the murder of Yitzhak Rabin from more than twenty people showed that it was Avishai Raviv who implored Yigal Amir to kill Rabin.
Leah Rabin also knows that the Shamgar commission that investigated the murder of Yitzhak Rabin identifies Yigal Amir as an officer of Israeli intelligence.
Yet none of this makes it into Leah Rabin's repertoire abroad, which are reported as tirades against Israel's current government, which she consistently accuses of playing a hand in her husband's murder.
With the approach of the New Year, the time has come to reconsider the standing of Leah Rabin, and to monitor every speech that she makes.
---
An Open Letter to Jews in Arizona:
Is Diana a Role Model to Emulate?
by A. Engler Anderson
Here are a few of the special stories you'll find in this week's issue of the Jewish News of Greater Phoenix .... Online! ... as well as the Jewish community's need for more positive role models like Princess Diana at http://www.jewishaz.com/jewishnews/970912/diana.shtml.
Diana Spencer a postive role model for Jews? Hello?
What kind of Judaism do y'all practice out there in Arizona?
Let's remember all the positive things your role model did:
She utterly failed (from her end) to keep her marriage together.
She cavorted about in public with the disreputable playboy son of a shady Arab businessman who the British government had refused for years to grant citizenship.
She abandoned her children with the father.
She dishonored her family, the Royal Family and England itself.
Diana Spencer haimish? I think the Yiddish phrase that more adequately describes her and all that surrounds here is "goyishe nachas."
I certainly hope you don't use this role model to teach Jewish ethics and foster Jewish continuity out there in Arizona.
---
Full Letter Given to US Secretary of State by American Hospitalized by Bomb Victim
September 9, 1997
Dear Secretary Albright,
As a United States citizen, I am deeply touched by your personal visit.
By the grace of God, I was spared death, as a nail-filled bomb pierced most of my body
With help from above, I will recover, but I am deeply troubled by what I saw.
As a yeshiva seminary student, I try to search for a deeper understanding of the events that I see.
And as I lay in a hospital bed, I also try to comprehend the ongoing political process.
I am deeply troubled by what I see. In December of 1992, the late Israeli prime minister Yitzhak Rabin expelled 400 Hamas members from the country. Yet after intense US state department pressure, the Israel government gave in, and allowed these terrorists to return to the country. That mistake has cost hundreds of lives. I almost paid for this blunder with my life.
Secretary Albright, please do not be fooled and deceived any more. Yassir Arafat has embraced and armed Hamas leaders and has embraced their policies. It has been exactly four years since Arafat signed the Oslo accords at the White House, promising that the PLO would revoke the covenant to destroy Israel. After fours years it remains just that; a promise.
Enough is enough. Secretary Albright, precious lives are at stake. The policies that you choose are crucial. The decision not to stand up to Hamas four years ago almost cost me my life, while claiming the lives of over 300 terror victims. Your decision to stand up to Arafat could save lives tomorrow. Please do the right thing.
Respectively Yours,
Daniel Miller, age 19, student studying in Jerusalem from Miami, Fla
Orthopedic Recovery Ward
Hadassah Hospital
Jerusalem, Israel
---
The Israel Resource Review is brought to you by the Israel Resource, a media firm based at the Bet Agron Press Center in Jerusalem, and the Gaza Media Center under the juristdiction of the Palestine Authority.
You can contact us on media@actcom.co.il.
---
| | |
| --- | --- |
| Back to the home page | Back to the home page |