On these pages we are offerring you the opportunity to view and purchase wonderfully decorative glass and silver items made by renowned Jerusalem artist, Chaim Peretz.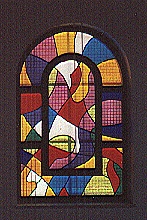 Chaim Peretz applies over twenty years of artistic skill to create unique and elegant stained glass and sterling silver Judaica pieces.
Chaim is a graduate of the College of Stained Glass and Silver of Jerusalem. He has been commissioned to produce stained glass masterpieces for many of the most prestigious synagogues in Israel. including the synagogues in Ramat Eshkol, Armon Hanetziv, Har Nof and Elkana.
He has also created numerous stained glass pieces for private homes, in addition to a line of fine Judaica you can have for your home.
Please feel free to browse though this catalogue and view and purchase some of the fine Judaica created by Chaim Peretz. Chaim is available to produce specially commissioned works, including stained glass windows like the one on this page.
Go to Order Form to place your order.
For further information, write to israelVisit Catalogue Center.
---