BLOWBACK
The first full account of America's recruitment of Nazis, and its disastrous effect of our domestic and foreign policy.
by Christopher Simpson
Published by Weidenfeld & Nicholson, 1988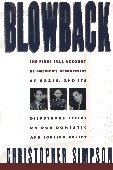 Blowback is the fullest and most authoritative account ever written of America's collaboration with Nazis after World War II, and of the long-range effect this has had on the nation's domestic and foreign policy. Drawing on extensive firsthand research and a wealth of documents previously classified or never before made public, Christopher Simpson has written a major and often startling work about the extensive connection between high-ranking American officials and ex-Nazis and collaborators, and about the effect this relationship has had on American society and the cold war.
Blowback investigates a hushed-up but vitally important chapter in American history. It explores U.S. recruitment of Nazis and Nazi collaborators in Europe through programs such as the Gehlen Organization, Klaus Barbie's network, and the Labor Service Battalions. Perhaps and more significantly, Blowback reveals the approved (though usually extralegal) immigration of ex-Nazis and collaborators into the United States itself, and the significant impact this has had on American society.
Among the wealth of new material in this book, Blowback brings to light for the first time how senior members of the State Department and the CIA, including noted diplomat George F. Kennan, helped organize clandestine programs that brought high-ranking Nazis and Axis government officials to America - and how the State Department has covered up the evidence ever since; how the Pentagon falsified its own files to bring former Nazi scientists, some of them SS officers such as Wernher von Braun, into the country; how in 1948 Nazis on the U.S. intelligence payroll seriously misrepresented the nature and extent of the Soviet threat, thereby materially heightening the cold war; how the Pentagon trained and equipped former Nazi collaborators for use as anti-Communist guerrillas in the even of nuclear confrontation; how the CIA has spend millions to bankroll anti-Semitic emigre political groups inside the United States - and has consistently hidden the part played by leaders of these groups during the Holocaust.
Blowback is a sober and sobering account of how a clandestine national security policy, often embarked on for limited or pragmatic ends, has resulted in a disastrous blowback effect that escaped the control of its instigators, unseated those who had participated in its inception, and significantly contributed to the hysteria of the cold war and the McCarthy era. Authoritative, shocking, controversial, Blowback opens for the public scrutiny a chapter of our recent history that remains essential to the understanding of our world, but that many would prefer to keep shut.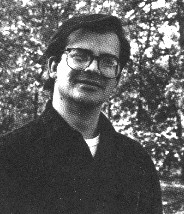 Christopher Simpson is an award-winning investigative reporter based in Washington, D.C. A former visiting scholar at the Institute for Policy Studies, Simpson served as a research directory for the film Hotel Terminus: The Life and Times of Klaus Barbie by the noted French film director Marcel Ophuls.
Comments on BLOWBACK
"The ultimate book about the worst kind of cold war thinking, in which some of our most respected statesmen made shameful decisions for reasons that they mistakenly believed to be justified. "
Seymour Hersh
Author of The Price of Power: Kissinger in the Nixon White House
"Christopher Simpson's Blowback is a blockbuster that will shock most Americans by its revelations of official American government complicity in using, shielding, and supporting Nazi war criminals_ Then full story of this country's shameful, cynical collaboration with Nazi criminals has not been told until now with the publication of Simpson's book."
Nora Levin
Director, Holocaust Archive
Gratz College
"Christopher Simpson is a wizard and an expert in the field . . . . Two cheers for the Freedom of Information Act, and three cheers for Mr. Simpson."
Marcel Ophuls
Director of The Sorrow and the Pity
"Blowback is the first full-scale revelation of U.S. collaboration with Nazi war criminals after World War II. It exposes the shameful, immoral, end-justifying-the-means government policy in all its frightening detail. Blowback is a must read for anyone who wants to understand postwar policy on Nazi war criminals and the cold war."
Elizabeth Holtzman
District Attorney, Kings County, New York
"Blowback is a riveting story of considerable historic importance, well-documented and well told."
Richard J. Barnett
Author of The Alliance: America, Europe, Japan - Makers of the Post-War World
Order you books right here
---