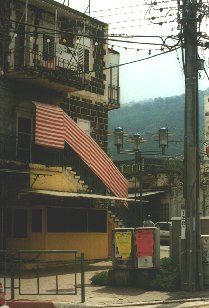 Tiberias is situated on the shore of Lake Kinneret (also known as the Sea of Galilee). Uniquely it is about 270 metres below see level, making it, after Jericho, the lowest city on earth. In the summer, temperatures sour as does the humidity. The hottest measured temperature in the whole of Asia, 53 degrees celcius, was right here. But everything is air-conditioned in our days.

It has played an important regional role for over 2,000 years. It was bulit during the Roman occupation of Holy Land. It is one of the four sacred cities of Judaism (the others are Jerusalem, Hevron and Safed).

Tiberius is a sparkling jewel on banks the shimmering lake. Try and get they around a full moon when the lunar reflection is at its greastest. This city was home to the authors of the Mishna, the first written codificastion of the oral law, given to Moses on Mount Sinai, but passed from generation to generation by word of mouth. During these period, the growing pain for diaspora started to become more apparent, and led my Rabbi Judah (Yehuda haNasi) the Prince, the process, hitherto forbidden of writing the oral tradition began.

Not far from Tiberius is the town of Migdal, where a famous Miriam once lived. She probably came down to the city on market day, which in those days was on Mondays and Thursday. Today the town bussles six days a week, the sabbath beging a quite day of rest and introspection.
---
The following links are from Google Ads.
We have no control over the content.
---
Today it is popular holiday resort, and still retains its role as the regional centre. The famed, from ancient days, hot springs are always a way to end a hard day of touring. Relax in the ancient baths.
Unlike the limestone that characterises the building in the Jersualem area, the city of Tiveriya is built with dark blue stones. This is a result of the different geology in this area. The rocks in the north of Israel are volcanic basalt. The nearby Golan is home to a number of now dormant volcanoes, which once spewed the earth innards on to this part of the country.
While in Tiberias, visit Kfar Nahum (Capernaum) and of course Katzrin and the Golan-Bashan mountains.