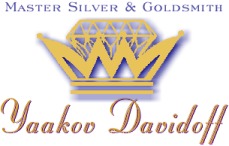 Hannuka Collection
Click on a picture to see a larger illustration and more information.
All sizes are approximate.
HAN-01
Miniature Hanukia
11 x 9cm (4.3 x 3.5in)
HAN-02
Miniature Hanukia
8 x 8cm (3.1 x 3.1in)
HAN-03
Hanukia
35 x 35cm (13.7 x 13.7in)
HAN-04
Hanukia
75 x 125cm (29.5 x 49.2in)
HAN-05
Miniature Hanukia
15 x 17cm (5.9 x 6.6in)
HAN-06
Hanukia
80 x 100cm (31.4 x 39.3in)
Go to Order Form to place your order.

For further information, write to israelVisit .
---
| | |
| --- | --- |
| | |
| home page | home page |