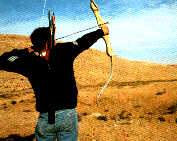 The Desert Archery Park
in Mitzpe Ramon
is the only place in the world where you can enjoy a game of archery while hiking through 300 dunam of natural desert terrain.
Here you can experience the beauty, excitement and silence of the desert. Decide the length of your archery course (1-4 km). After a few minutes of training you're ready to begin your adventure in self-discovery — you, your bow and arrow and the magic of the desert.
Desert Archery is an environmentally friendly "soft adventure" based on golf.
Shady rest stops along the way offer panoramic views.
The archery equipment is professional and safe (soft rubber-tipped arrows).
Desert Archery was developed for adults, but kids love it too. (Children over 9 can play under adult supervision.)
Bring comfortable walking shoes, hat and water canteen.
At 900 meters above sea level, Mitzpe Ramon has pleasant weather and clean air all year round.
Desert Archery Park
POB 581, Mitzpe Ramon, 80655

For details:
Tel/Fax: (+972-7) 587-274
Mobile Phone: (+972-50) 344-598