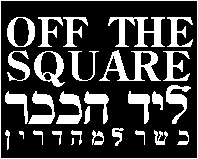 We've moved!!
Come and visit us at our new location!
Now located in the city centre, 1 Messilat Yesharim Street (corner Betsalel) Yerushalayim Off the Square Restaurant has been offering a large selection dairy, fish and other non-meat meals for over 20 years.
The food is great and the atmosphere superb.
The food has no added MSG.
STYLE:
Dairy
KOSHER:
Kosher Lemehadrin, Jerusalem Rabbinate
HOURS:
Sunday 'til Thursday 9 a.m. to 11 p.m.
Friday 9 a.m. 'til 2 p.m.
Saturday after the sabbath 'til midnight
CREDIT CARDS:
All major credit cards accepted
ADDRESS:
1 Messilat Yesharim Street
PHONE:
FAX:
(02) 623-3914
Check out a selection of the delicacies that have made Off the Square famous.
---
Back to the

home page.