Mitch Clyman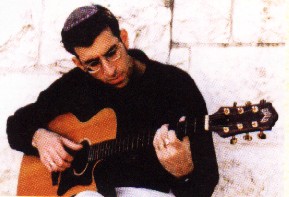 Mitch Clyman was born in Philadelphia. He earned a degree in film scoring at the world famous Berklee College of Music in Boston. He continued advanced studies in composition and conducting at the University of London. After graduation, Mitch composed music for the film and television industries.
While at Berklee College, Mitch beganto explore the musical and spiritual aspects of his heritage. In 1989 he left for Israel to further explore his roots, first working on a kibbutz and then studying in a Yeshiva (a Jewish theological seminary). There he entered the world of the Hebrew Scriptures and Talmudic tractates, ancient books and manuscripts dating back thousands of years. After several years of study he found that music was still his truest form of expression, and he returned to it with a spiritually elevated perspective.
Since settling permanently in Jerusalem with his wife and son, Mitch has become a major composer of music for film and television. His music can be heard on films produced the A&E Network, the History Channel and P.B.S. He has composed music for Israel's Channel 2 Morning News and Morning Magazine.
Mitch's family is paternally descended from the tribe of Levi, one of the twelve tribes of Israel. The Levites were the musicians of the Holy Temple in Jerusalem, accompanying the services with music and song. Through his music Mitch hopes to follow in his ancestral tradition, fusing the modern and the traditional, the mundane and the mystical.
You can purchase the Prophecy CD for $22.00 including shipping worldwide.
Back to the Ohradio Home Page.
---
| | | | |
| --- | --- | --- | --- |
| | | | |
| home page | home page | home page | home page |